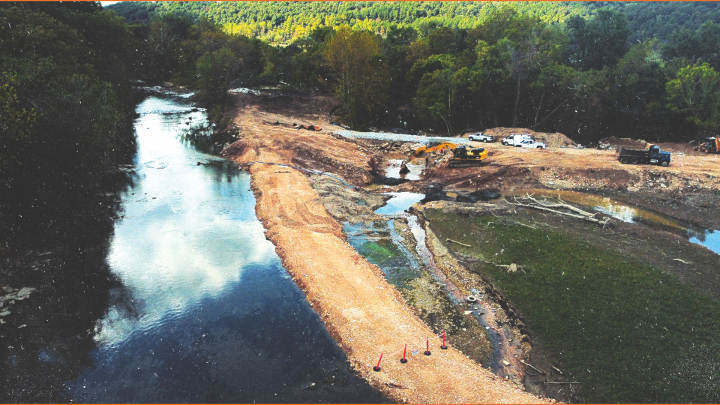 Something about water draws us in, inviting us to be near it, to jump into it and experience its wonder. We want to swim in it, splash in it, float on it, listen to it, stare at it, fish from it, or watch the campfire light dance on its reflection. It is relationship building, rejuvenating, sustaining, restoring. It's no wonder Jesus uses living water to describe the Holy Spirit in John 7:37-38: "Let anyone who is thirsty come to me and drink. Whoever believes in me, as Scripture has said, rivers of living water will flow from within them." As disciples of Christ, we have within us a gift more powerful, sustaining or restoring than any physical body of water!
At Flint Valley the waterfront is a key part of the spiritual rest, restoration and relationship building of our guests. Swimming, sliding, canoeing, fishing, being near and baptising in the creek are regular occurrences. Given that Flint Creek only flows 31 cubic feet per second (231 gallons) in the summer months, this body of water is made possible by a dam first constructed in 1966 under the camp founder, Reverend Heck. Time, wind, and water deteriorated this original structure such that it underwent significant repair in 2001.
In 2018 we again found the structure deteriorating at an unsustainable rate. Urban development in the Siloam Springs and Gentry area watersheds continues to push increasing amounts of water through Flint Creek, accelerating the deterioration of the dam and increasing the frequency of flooding events in camp. We knew we needed a sustainable long-term solution to protect the integrity of our dam, the impact of our waterfront, and to stop the contribution of sedimentation into the watershed. Knowing this repair was beyond what we could design ourselves, we reached out to Guy Engineering to develop a plan for restoring our structure.
Over the next two years NLR worked with Guy Engineering to evaluate our options and make plans for repairs. Guy Engineering brought in a geotechnical engineer to profile existing soils. A hydrologist conducted a study of our watershed to determine how much water we could expect during peak flows both now and with further upstream developments. Our 100-year flood is projected to flow 37,100 cubic feet per second, or 1,200 times our normal summer flow! That's equivalent to draining our swimming pool 3 times a second! The Army Corp of Engineers, Scenic Rivers Commission, and Department of Environmental Quality were consulted to provide permitting and operational guidelines for repairs. Drawings were reviewed and modified, concerns were addressed and a plan was finalized.
In August of 2021 we began executing the plan! We are conducting the work in two primary phases - north and south. Our existing drainage structures, constructed from repurposed steel water tanks laid on their sides and grouted in place, will be rebuilt with concrete box culverts. The primary discharge areas below these culverts will be stabilized with riparian buffer zones to protect the creek channel. Our homemade gate system, which has been repaired and rebuilt countless times, will be replaced with a sustainable, purpose built cast iron gate. This gate will be operable with a handwheel rather than engine driven equipment, making operation both easier and safer.
Our lake level will remain the same, but our two primary spillways will be widened. This will allow more water to pass at a lower water level, reducing the elevation of floodwaters in camp and broadening the distribution of floodwater discharge, thus reducing downstream erosion. Part of our earthen dam will be modified into a hi-water auxiliary spillway which will further aid in reducing water levels and erosion during flooding events.
Falling water is the enemy of soil stabilization, so all of the upstream and downstream slopes will be adjusted to allow water to pass without erosion inducing turbulence. All sloped areas will be capped with interlocking concrete blocks specifically designed for our application. These blocks will allow water to pass over them at high flow rates without eroding the soil beneath. Where the concrete blocks terminate, the earthen grades will be kept to very low slopes and stabilized with appropriate vegetation. All of these repairs work together as a system to create a long-term, ecologically and financially sustainable solution to restore this invaluable asset.
Besides the already stated benefits, this project will provide a few other benefits. One being it will connect the north and south sides of the creek with a land bridge. The crest of the dam is designed as a traffic surface for pedestrian, equine and light vehicular traffic, thus expanding programming potential. Flood damage to the dam over the past several years has also resulted in a broad range of lake levels for the non-summer months. The stabilized water levels after repairs should attract more wildlife to the water, increasing the numbers of geese, ducks, fish and bald eagles seen in the valley each year. And these higher water levels should keep those new can-do canoes from dragging the creek bottom!

Work on this project is expected to be completed by May of 2022. We hope you are on site to see some portion of the progress! We recognize that the creek will look very different during the course of this project, and we are very sorry for the inconvenience. Please know that we are doing all we can to get this project completed on-time and in a sustainable manner to minimize both the short and long-term impact on our guests. We look forward to witnessing the power of spiritual renewal on the waters of Flint Creek for generations to come!