Ozark Conference Center - Camp Solgohachia
to become a part of New Life Ranch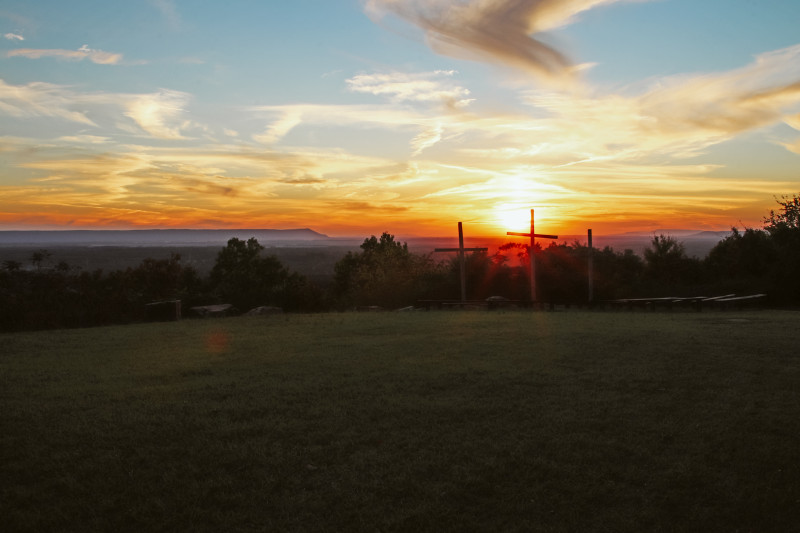 FOR IMMEDIATE RELEASE:
(Solgohachia, AR) December 16, 2021. The Board of Directors of Ozark Conference Center (OCC) and New Life Ranch are pleased to announce the transfer of ownership of the 324 acre retreat facility on Jenkins Mountain, north of Morrilton, AR, most recently known as Camp Solgohachia. As of December 15, 2021, New Life Ranch will own and operate the facility. With over 100 years of Christian camping ministry between the two organizations, it is an exciting exchange for both organizations. This transfer of ownership is, in essence, a way of maintaining the original vision and purpose of the founders for this location, now under the new stewardship of New Life Ranch.
Ozark Conference Center began as a dream of Dr. & Mrs. Carl Wenger who attended retreat centers around the country to hear great Bible speakers but found no such facility in Arkansas. It was founded in January of 1975 as an interdenominational, non-profit organization and held its first conference in October of 1976. It continued sponsoring conferences, workshops, retreats, and luncheons throughout the year in rented facilities throughout Arkansas. In August of 1993, OCC dedicated its current facilities atop Jenkins Mountain in Solgohachia, AR and began using it to not only host conferences and retreats but also a summer camp. Camp Solgohachia, a ministry of OCC, would grow to impact over 1,000 people each summer.
"The board and staff are thrilled to have found such like-minded laborers for Christ. Their experience and expertise in operating summer camps for children and youth, running leadership development programs for teens and their experience in operating a retreat center that serves and hosts other ministries and churches is impressive. However, what we're most excited about is their similar mission and their passion for Jesus. The gospel will continue to be shared and ministry will flourish on the mountain under their stewardship." Mark Gaydos, Board Chairman - Ozark Conference Center
New Life Ranch was originally established in 1958 by former Tulsa Bible Church founder, Rev. Willard Heck and partner Tom Hull. It has served as a Christian camp and retreat facility to churches and youth from Oklahoma City, Tulsa, Northwest Arkansas and the surrounding 5 state area for nearly 64 years. Now, seeing close to 5,000 campers each summer and 20,000 guests throughout the balance of the year, New Life Ranch expanded capacity in 2018 with the acquisition of Camp Dry Gulch in Adair, OK, previously owned by Church on the Move of Tulsa. New Life Ranch changed the name to New Life Ranch - Frontier Cove following the acquisition. After meetings at the beginning of 2021, a strategic planning task force of board members and staff determined that New Life Ranch would seek to double the scope of ministry in the next five years. In order to achieve that vision they needed to acquire or build a third site to be used to host multiple retreat groups at the same time all year long, with a summer focus of partnering with large retreat groups during June and July. This is a common request but currently not possible due to the established summer programming at the two current locations. In early October, a consultant that had been retained by OCC reached out to New Life Ranch to advise of OCC's intent to dissolve and pass the facility to another ministry. Though sooner than anticipated, the opportunity to assume responsibility for the facilities and location of OCC - Camp Solgohachia was seen as an affirmation of the proposed vision and a strategic expansion of ministry in Central Arkansas for New Life Ranch. On Friday, November 19, the OCC board voted unanimously to award the facility to New Life Ranch.
"I continue to be in awe of God's provision and His leading of the ministry of New Life Ranch. Nearly 4 years ago He provided our second site, NLR Frontier Cover in Adair, OK and now the OCC property. With our emerging vision to be a trusted family of camps fulfilling our mission of Proclaiming the Gospel of Jesus Christ and equipping believers for ministry in the lives of more and more people, our need for more capacity is being met with this gift from the ministry of OCC. We look forward to building on and growing the impact of ministry in Central Arkansas." Tom Graney, CEO - New Life Ranch
The transition will include assessing, renovating and rebuilding immediately in order to bring back the facility in good service at the earliest possible date. The desire of New Life Ranch to restore the vitality, ministry and service of this location as early as the Summer of 2022. The desire is to provide ministry groups retreats while master planning for expansion is developed. The long term goal is to be able to serve multiple groups simultaneously or a single group with a service capacity of 500 beds.
Upon publishing of this story, summer camp registration for both Junior Camp, at New Life Ranch - Frontier Cove in Adair, OK and Senior Camp, at New Life Ranch - Flint Valley in Colcord, OK is now open for Summer 2022. If you are interested in exploring retreat options with New Life Ranch, please contact our Reservations Manager, Steve Markovich at 918-422-5506 or visit our website at www.newliferanch.com
****
For more information please contact:
New Life Ranch
Tom Graney
Chief Executive Officer
918-422-5506